The Secret to the Best Helmet Speaker Audio Quality
Here at IASUS, we have been the leader in the helmet speaker market segment since 2001. We have seen our competitors come and go, so we are confident when we say that not all helmet speakers are created equal and we know what makes a helmet speaker great.
From the material of the speaker cone to the custom housing for achieving the right acoustics, we design each series of our XSound helmet speakers from the drawing board. And because we research and develop speakers in-house at our IASUS Headquarters, we do not source cheap, already-made generic speakers and pass them off as our own with fancy packaging and licensed brand names. This is often the case in this era of sourcing and rebranding, in order to save time and cost to bring new products to the market as quickly as possible. Ironically, well known brands on the market has approached IASUS at one time or another to supply them with speakers for their upcoming Bluetooth headset systems.
Now, let's get to the thick of it. What makes a helmet speaker good? The answer is simple, it's the components!
Drivers
The speakers  sold on the market today typically use drivers that range from 35mm to 45mm in diameter. Generally, the bigger the driver, the more air it can move, directly translating to higher  volume and more bass. However, that's also highly dependent on the audio source, so don't just go out and buy a new pair expecting it to be significantly louder than what you're replacing – they won't be. (We will have more on achieving higher volume in a future article.) Both the material and construction of the drivers also matter, since it is not as simple as sourcing and repurposing headphone drivers for helmet use. For example, we at IASUS designs our own drivers and they are engineered specifically for helmet use.
Speaker housing
This is just as important as the drivers. A properly designed enclosure matching the driver ensures the speaker will deliver accurate and crisp sounds, and allows as a whole to function as efficiently as possible, in order to not lose any volume than what the audio source can put out. The IASUS XSound 3 housing, for example, is tuned and ported for exceptional full range audio with unmatched bass response.
Cable
The component that is often overlooked. Good quality cables will not only minimize and eliminate audio signal degradation, but also provide durability over the life of the speakers. Such is the case with our 100% copper stranded cables reinforced with Kevlar that allows for withstanding 10 pounds of pulling tension.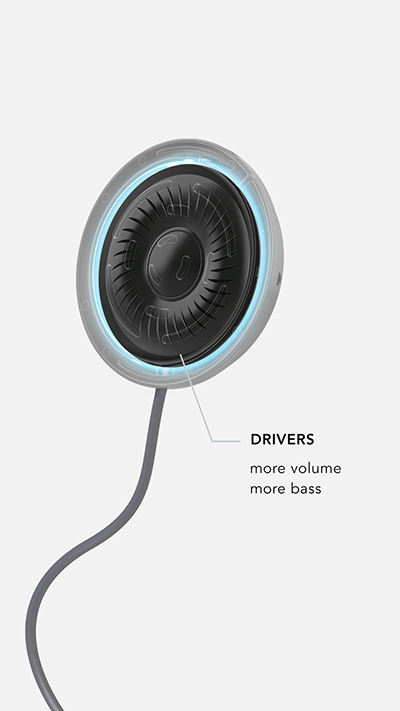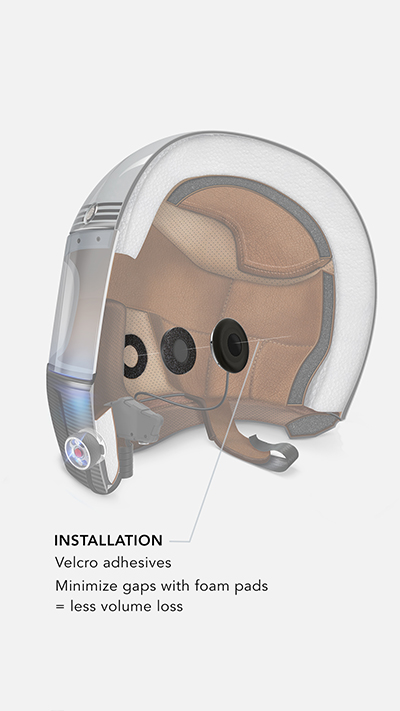 Device compatibility
Most speakers will be equipped with a 3.5mm stereo connector to retain universal compatiblity. The 3.5mm connector has been a standard in personal audio and still relevant today with the latest mobile phones (some may require an adapter). It has also existed for over 60 years, so there is no reason to reinvent the wheel. IASUS XSound helmet speakers also come equiped with gold-plated contacts to ensure consistent connectivity over timeand corrosion resistance.
Installation
As most modern helmets include sufficiently deep ear pockets, they can typically accommodate speakers without requiring any modifications to the helmet protective foam, so there is no need to sacrifice safety for sound. Mounting is almost always accomplished using Velcro, allowing for easy repositioning of the speakers to line up with the ears (very important) and for easy removal and reinstallation when desired. Our IASUS XSound 3 also comes with an Ear Unfolding Tab to unfold your ears after putting on your helmet.
Conclusion
In conclusion, helmet speaker manufacturers use different designs and materials (and sometimes even repurposing other audio products) to achieve various levels of product quality, audio performance, and service life for a helmet speaker to meet their bottom line and maximize profit. IASUS XSound helmet speaker products and components however, are all designed and engineered from the start to be a helmet speaker with offerings at different price points. The best advice we can offer is to try each pair for yourself and see which ones sounds the best to  you and the most comfortable on your ears.